About Us
Mr Wong Chinese is a Chinese takeaway in Dagenham. Why don't you try our Sweet & Sour Pork Hong Kong Style or Mushroom in Black Bean Sauce?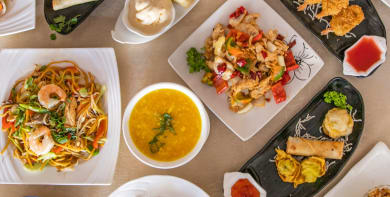 Reviews
161 reviews
Clinton
"Good stuff, Thanks"
26/09/2020
Hetty
"I love their service but the food still need a little lift. All the same I will still order from them."
21/09/2020
Diana
"The food was super tasty and I will definitely buy more much more ❤❤❤"
20/09/2020
Anita
"Very nice Chinese best in dagenham Essex fresh taste & cheap we definitely buy again thankyou mr wong x"
19/09/2020
Menu
Satay Chicken on Skewers (4)
Contains: Nuts
£4.90
Vegetable Spring Rolls (5 Rolls)
Vegetables
£2.00
Grilled Pork Dumplings (6)
£4.40
Crispy Seaweed with Grated Scallops
£3.40
Sesame Prawn on Toast (6)
£4.40
Salt & Chilli King Prawns
Hot
£5.40
Salt & Chilli Chicken Wings (6)
Hot
£4.60
Chicken Wings with Spicy Sauce
Hot
£4.60
Thai Style Fish Cakes with Fish Sauce (8)
£4.40
Thai Platter (For 2 Persons)
Satay Chicken, Vegetable Spring Rolls, Sesame Prawn on Toast, Peking Spare Ribs, Seaweed & Thai Fish Cake
£8.40
Oriental Platter (For 2 Persons)
Satay Chicken, Sesame Prawn on Toast, Barbecue Spare Ribs, Crisp Won Ton, Vegetable Spring Rolls & Crispy Seaweed
£8.40
Crispy Aromatic Duck Quarter
Served with Pancakes, Cucumber, Spring Onions & Hoi Sin Sauce
£8.20
Crispy Aromatic Duck Half
Served with Pancakes, Cucumber, Spring Onions & Hoi Sin Sauce
£15.20
Fried Won Ton with Sweet & Sour Sauce (8)
£3.40
Dry Spare Ribs with Honey Sauce
£5.40
House Special Chow Mein
With Sauce
£5.50
House Vegetable Chow Mein
Vegetables
£4.70
Shredded Chicken Chow Mein
£4.70
Whole Piece of Chicken Chow Mein
With Sauce
£4.70
Shredded Roast Pork Chow Mein
£4.70
Sliced Roast Pork Chow Mein
With Sauce
£5.00
Singapore Rice Noodles
Hot
£4.90
Mushroom Chow Mein
Vegetables
£4.40
Plain Chow Mein
Vegetables
£3.90
Roast Duck & Chicken Chow Mein
With Sauce
£5.50
Roast Duck Chow Mein
With Sauce
£5.50
Roast Duck & Roast Pork Chow Mein
With Sauce
£5.50
A. For Four Persons
Sesame Prawn on Toast
BBQ Spare Ribs
Sweet & Sour Chicken Balls
Deep Fried Shredded Beef in Chilli (Hot)
Chicken with Mushrooms
Plain Mixed Vegetables
Chicken Chow Mein
Special Fried Rice
£35.00
B. For Three Persons
Sliced Beef with Green Peppers & Black Bean Sauce (Hot)
King Prawns in Oyster Sauce
Sweet & Sour Chicken Balls
Plain Mixed Vegetables
Chicken Chow Mein
Special Fried Rice
£28.50
D. For Two Persons
Chicken with Cashew Nuts (Contains: Nuts)
Sweet & Sour Chicken Balls
Beef with Mixed Vegetables
Shredded Chicken Chow Mein
Special Fried Rice
£20.00
C. For Two Persons
Sliced Beef with Ginger & Spring Onions
Sweet & Sour Pork Balls
Chicken with Mushrooms
Shredded Chicken Chow Mein
Special Fried Rice
£20.00
Roast Duck with Green Peppers & Black Bean Sauce
Hot
£5.40
Whole Piece of Chicken in BBQ Sauce
Breast
£4.40
Roast Chicken Wings
Chinese Style
£4.40
Roast Chicken Chinese Style
£4.90
Chicken with Cashew Nuts
Contains: Nuts
£4.90
Chicken with Oyster Sauce
£4.90
Chicken with Green Peppers & Black Bean Sauce
Hot
£4.90
Chicken with Ginger & Spring Onions
£4.90
Chicken with Onion & Black Pepper Sauce
Hot
£4.90
Salt & Chilli Chicken
Hot
£4.90
Stir Fried Chicken with Satay Sauce
Contains: Nuts
£4.90
Szechuan Chilli Chicken
Hot
£4.90
Deep Fried Shredded Chicken with Chilli
Hot
£5.30
Deep Fried Honey Shredded Chicken with Chilli
Hot
£5.30
Fried Chicken with Garlic Sauce
£4.90
Deep Fried Shredded Beef with Chilli
Hot
£5.10
Deep Fried Honey Shredded Beef with Chilli
Hot
£5.30
Beef with Ginger & Spring Onion
£4.90
Beef with Onion & Black Pepper Sauce
Hot
£4.90
Beef with Satay Sauce
Hot
Contains: Nuts
£4.90
Kung Po Beef in Chilli Sauce
Hot
£4.90
Sliced Beef with Green Peppers & Black Bean Sauce
Hot
£4.90
Sliced Roast Pork Chinese Style
£4.90
Roast Pork with Green Peppers & Black Bean Sauce
Hot
£4.90
Lamb with Ginger & Spring Onions
£5.60
Lamb with Green Peppers & Black Bean Sauce
Hot
£5.60
Thai Green Curry Lamb
Hot
£5.60
Chicken & Pineapple Fried Rice
£5.40
Thai Green Mixed Meat Curry
Hot
£5.40
Thai Green Mixed Vegetable Curry
Hot
Vegetables
£5.40
Thai Style Fried Noodles
Hot
£5.40
Thai Spicy Hot & Sour Soup with Chicken
Thai Spicy Hot & Sour Soup With Chicken & Lemon Grass (Tom Yum Kai Soup)
Hot
£3.20
Thai Spicy Hot & Sour with King Prawn
Thai Spicy Hot & Sour with King Prawn & Lemon Grass (Tom Yum Koong)
Hot
£3.20
Thai Spicy Hot & Sour Soup with Lemon Grass
Tom Yum Vegetable Soup
Hot
£3.00
Thai Green Beef Curry
Hot
£5.40
Thai Green Chicken Curry
Hot
£5.40
Thai Green King Prawn Curry
Hot
£5.40
Sweet & Sour Chicken Breast
£4.90
Sweet & Sour Chicken in Batter
£4.90
Sweet & Sour Chicken Balls
£4.90
Sweet & Sour King Prawn Balls
£5.40
Sweet & Sour King Prawns
Hong Kong Style
£5.40
Sweet & Sour Pork
Hong Kong Style
£4.90
Sweet & Sour Chicken
Hong Kong Style
£4.90
Sweet & Sour Mixed Vegetables
Vegetarian
£4.40
Sweet & Sour Sauce
Vegetarian
£1.60
Szechuan Chilli King Prawn
Hot
£5.40
King Prawns in Garlic Sauce
£5.40
King Prawns with Cashew Nuts
Contains: Nuts
£5.40
King Prawns with Ginger & Spring Onions
£5.40
King Prawns with Green Peppers & Black Bean Sauce
Hot
£5.40
King Prawns with Mushrooms
£5.40
King Prawns with Onion & Black Pepper Sauce
£5.40
King Prawns with Oyster Sauce
£5.40
King Prawns with Satay Sauce
Hot
Contains: Nuts
£5.40
King Prawns with Tomatoes
£5.40
House Special Mixed Vegetables
£5.40
King Prawn Mixed Vegetables
£5.40
Roast Pork Mixed Vegetables
£4.90
Mixed Vegetables with Oyster Sauce
£4.20
Szechuan Mixed Vegetables
Hot
Vegetables
£4.20
Fried Tofu in Satay Sauce
Vegetables
Contains: Nuts
£4.90
Fried Tofu with Green Peppers & Black Bean Sauce
Hot
Vegetarian
£4.90
Stewed Mushrooms
Vegetarian
£4.40
Mixed Vegetables in Satay Sauce
Vegetarian
Contains: Nuts
£4.40
Stir Fried Bean Shoots with Spring Onions
Vegetarian
£3.40
Egg Fried Rice
Vegetables
£3.60
House Special Fried Rice
With Sauce
£5.50
House Mixed Vegetable Fried Rice
Vegetables
£4.70
Boiled Rice Large
Vegetables
£3.00
Boiled Rice Small
Vegetables
£2.30
Shredded Chicken Fried Rice
£4.70
Roast Duck Fried Rice
With sauce
£5.50
Roast Duck & Roast Pork Fried Rice
With sauce
£5.50
Roast Duck & Chicken Fried Rice
With sauce
£5.50
Roast Pork & Chicken Fried Rice
With sauce
£5.10
Sliced Roast Pork Fried Rice
With sauce
£5.00
Shredded Roast Pork Fried Rice
£4.70
Mushroom Fried Rice
Vegetables
£3.90
Whole Piece of Chicken Fried Rice
With sauce
£4.90
Mixed Vegetables Soup
Vegetarian
£2.30
Crab Meat Sweet Corn Soup
£2.50
Mushroom Omelette
Vegetables
£4.40
Mushroom Fu Yung
Vegetables
£4.40
Plain Omelette
Vegetables
£4.40
Beef in Black Bean Sauce with Rice
Hot
£6.00
Beef in Black Bean Sauce with Noodles
Hot
£6.00
Chicken in Black Bean Sauce with Rice
Hot
£6.00
Chicken in Black Bean Sauce with Noodles
Hot
£6.00
Pork in Black Bean Sauce with Rice
Hot
£6.00
Pork in Black Bean Sauce with Noodles
Hot
£6.00
Mushroom in Black Bean Sauce with Rice
Hot
£5.50
King Prawn in Black Bean Sauce with Rice
Hot
£6.30
King Prawn in Black Bean Sauce with Noodles
Hot
£6.30
Duck in Black Bean Sauce with Rice
Hot
£6.30
Duck in Black Bean Sauce with Noodles
Hot
£6.30
Mushroom in Black Bean Sauce with Noodles
Hot
£5.50
Sweet & Sour Chicken Hong Kong Style with Rice
Hot
£6.00
Sweet & Sour Chicken
Sweet & Sour Chicken Hong Kong Style with Noodles
£6.00
Sweet & Sour Pork Hong Kong Style with Rice
£6.00
Sweet & Sour Pork Hong Kong Style with Noodles
£6.00
Sweet & Sour King Prawn with Rice
Sweet & Sour King Prawn Hong Kong Style with Rice
£6.30
Sweet & Sour King Prawn with Noodles
Sweet & Sour King Prawn Hong Kong Style with Noodles
£6.30
Chicken Curry with Rice
Hot
£6.00
Chicken Curry with Noodles
Hot
£6.00
Pork Curry with Noodles
Hot
£6.00
Beef Curry with Noodles
Hot
£6.00
King Prawn Curry with Rice
Hot
£6.30
King Prawn Curry with Noodles
Hot
£6.30
Portion of Chips
Vegetables
£1.70
Banana Fritters
Vegetables
£2.60
Apple Fritters
Vegetables
£2.60
Pineapple Fritters
Vegetarian
£2.60
Whole Piece of Chicken Curry
£4.90
Mixed Vegetable Curry
Vegetables
Hot
£4.40
Mushroom Curry
Vegetables
Hot
£4.40
Curry Sauce
Vegetables
Hot
£1.60
Contact Us
Find Us
460 Becontree Avenue Essex, Dagenham, RM83UA
We deliver to
IG1, IG11, IG3, RM10, RM6, RM7, RM8, RM9