About Us
Mr Wong Chinese is a Chinese takeaway in Dagenham. Why don't you try our Sweet & Sour Pork Hong Kong Style or Mushroom in Black Bean Sauce?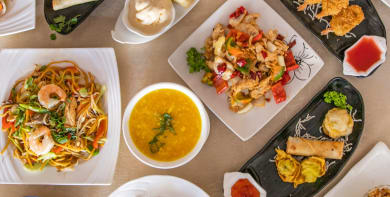 Reviews
233 reviews
Michael
"Ordered very quick service, food was very hot,excellent fresh food would recommend and we would certainly order again, not greasy or high in salt content like other takeaways and very tasty"
22/07/2021
Des
"Great hot food,pleasant delivery,many thanks."
22/07/2021
Des
"Food hot and delicious,early friendly delivery,many thanks."
15/07/2021
Maryam
"Outstanding food upmost respect to the restaurant the food is 10/10 definetly recommend"
10/07/2021
Menu
Satay Chicken on Skewers (4)
Contains: Nuts
£5.10
Vegetable Spring Rolls (5 Rolls)
Vegetables
£2.20
Fried Won Ton with Sweet & Sour Sauce (8)
£3.60
Dry Spare Ribs with Honey Sauce
£5.60
Grilled Pork Dumplings (6)
£4.60
Crispy Seaweed with Grated Scallops
£3.60
Sesame Prawn on Toast (6)
£4.60
Salt & Chilli King Prawns
Hot
£5.60
Salt & Chilli Chicken Wings (6)
Hot
£4.80
Chicken Wings with Spicy Sauce
Hot
£4.80
Thai Style Fish Cakes with Fish Sauce (8)
£4.60
Thai Platter (For 2 Persons)
Satay Chicken, Vegetable Spring Rolls, Sesame Prawn on Toast, Peking Spare Ribs, Seaweed & Thai Fish Cake
£8.60
Oriental Platter (For 2 Persons)
Satay Chicken, Sesame Prawn on Toast, Barbecue Spare Ribs, Crisp Won Ton, Vegetable Spring Rolls & Crispy Seaweed
£8.60
Crispy Aromatic Duck Quarter
Served with Pancakes, Cucumber, Spring Onions & Hoi Sin Sauce
£8.40
Crispy Aromatic Duck Half
Served with Pancakes, Cucumber, Spring Onions & Hoi Sin Sauce
£15.50
Mixed Vegetables Soup
Vegetarian
£2.40
Crab Meat Sweet Corn Soup
£2.60
House Special Fried Rice
With Sauce
£5.70
Mixed Vegetable Fried Rice with Sauce
Vegetables
£4.90
Shredded Chicken Fried Rice
£4.90
Roast Duck Fried Rice
With sauce
£5.70
Egg Fried Rice
Vegetables
£3.80
Mushroom Fried Rice
Vegetables
£4.10
Whole Piece of Chicken Fried Rice
With sauce
£5.10
Shredded Roast Pork Fried Rice
£4.90
Sliced Roast Pork Fried Rice
With sauce
£5.20
Roast Pork & Chicken Fried Rice
With sauce
£5.30
Roast Duck & Chicken Fried Rice
With sauce
£5.70
Roast Duck & Roast Pork Fried Rice
With sauce
£5.70
Boiled Rice Small
Vegetables
£2.50
Boiled Rice Large
Vegetables
£3.20
House Special Chow Mein
With Sauce
£5.70
Vegetable Chow Mein with Sauce
Vegetables
£4.90
Shredded Chicken Chow Mein
£4.90
Whole Piece of Chicken Chow Mein
With Sauce
£4.90
Shredded Roast Pork Chow Mein
£4.90
Sliced Roast Pork Chow Mein
With Sauce
£5.20
Singapore Rice Noodles
Hot
£5.10
Mushroom Chow Mein
Vegetables
£4.60
Plain Chow Mein
Vegetables
£4.10
Roast Duck & Roast Pork Chow Mein
With Sauce
£5.70
Roast Duck & Chicken Chow Mein
With Sauce
£5.70
Roast Duck Chow Mein
With Sauce
£5.70
House Special Mixed Vegetables
£5.60
King Prawn Mixed Vegetables
£5.60
Roast Pork Mixed Vegetables
£5.10
Mixed Vegetables with Oyster Sauce
£4.40
Szechuan Mixed Vegetables
Hot
Vegetables
£4.40
Fried Tofu in Satay Sauce
Vegetables
Contains: Nuts
£5.10
Fried Tofu with Green Peppers & Black Bean Sauce
Hot
Vegetarian
£5.10
Stewed Mushrooms
Vegetarian
£4.60
Mixed Vegetables in Satay Sauce
Vegetarian
Contains: Nuts
£4.60
Stir Fried Bean Shoots with Spring Onions
Vegetarian
£3.60
Sweet & Sour Chicken Breast
£5.10
Sweet & Sour Chicken in Batter
£5.10
Sweet & Sour Chicken Balls
£5.10
Sweet & Sour King Prawn Balls
£5.60
Sweet & Sour King Prawns
Hong Kong Style
£5.60
Sweet & Sour Pork
Hong Kong Style
£5.10
Sweet & Sour Chicken
Hong Kong Style
£5.10
Sweet & Sour Mixed Vegetables
Vegetarian
£4.60
Sweet & Sour Sauce
Vegetarian
£1.70
Whole Piece of Chicken Curry
£5.10
Mixed Vegetable Curry
Vegetables
Hot
£4.60
Mushroom Curry
Vegetables
Hot
£4.60
Curry Sauce
Vegetables
Hot
£1.70
Mushroom Omelette
Vegetables
£4.60
Mushroom Fu Yung
Vegetables
£4.60
Plain Omelette
Vegetables
£4.60
Whole Piece of Chicken in BBQ Sauce
Breast
£4.60
Roast Chicken Wings
Chinese Style
£4.60
Roast Chicken Chinese Style
£5.10
Chicken with Cashew Nuts
Contains: Nuts
£5.10
Chicken with Oyster Sauce
£5.10
Chicken with Green Peppers & Black Bean Sauce
Hot
£5.10
Chicken with Ginger & Spring Onions
£5.10
Chicken with Onion & Black Pepper Sauce
Hot
£5.10
Salt & Chilli Chicken
Hot
£5.10
Fried Chicken with Garlic Sauce
£5.10
Stir Fried Chicken with Satay Sauce
Contains: Nuts
£5.10
Szechuan Chilli Chicken
Hot
£5.10
Deep Fried Shredded Chicken with Chilli
Hot
£5.50
Deep Fried Honey Shredded Chicken with Chilli
Hot
£5.50
Roast Duck with Green Peppers & Black Bean Sauce
Hot
£5.60
Sliced Beef with Green Peppers & Black Bean Sauce
Hot
£5.10
Beef with Onion & Black Pepper Sauce
Hot
£5.10
Beef with Satay Sauce
Hot
Contains: Nuts
£5.10
Beef with Ginger & Spring Onion
£5.10
Kung Po Beef in Chilli Sauce
Hot
£5.10
Deep Fried Honey Shredded Beef with Chilli
Hot
£5.50
Deep Fried Shredded Beef with Chilli
Hot
£5.30
Lamb with Green Peppers & Black Bean Sauce
Hot
£5.80
Lamb with Ginger & Spring Onions
£5.80
Thai Green Curry Lamb
Hot
£5.80
King Prawns with Oyster Sauce
£5.60
King Prawns with Mushrooms
£5.60
King Prawns with Tomatoes
£5.60
King Prawns with Cashew Nuts
Contains: Nuts
£5.60
King Prawns with Green Peppers & Black Bean Sauce
Hot
£5.60
King Prawns with Satay Sauce
Hot
Contains: Nuts
£5.60
King Prawns with Ginger & Spring Onions
£5.60
King Prawns with Onion & Black Pepper Sauce
£5.60
King Prawns in Garlic Sauce
£5.60
Szechuan Chilli King Prawn
Hot
£5.60
Roast Pork with Green Peppers & Black Bean Sauce
Hot
£5.10
Sliced Roast Pork Chinese Style
£5.10
Salt & Chilli Chips
Vegetables
£3.30
Banana Fritters
Vegetables
£2.70
Apple Fritters
Vegetables
£2.70
Pineapple Fritters
Vegetarian
£2.70
Beef in Black Bean Sauce with Rice
Hot
£6.20
Beef in Black Bean Sauce with Noodles
Hot
£6.20
Chicken in Black Bean Sauce with Rice
Hot
£6.20
Chicken in Black Bean Sauce with Noodles
Hot
£6.20
Pork in Black Bean Sauce with Rice
Hot
£6.20
Pork in Black Bean Sauce with Noodles
Hot
£6.20
Mushroom in Black Bean Sauce with Rice
Hot
£5.70
Mushroom in Black Bean Sauce with Noodles
Hot
£5.70
King Prawn in Black Bean Sauce with Rice
Hot
£6.50
King Prawn in Black Bean Sauce with Noodles
Hot
£6.50
Duck in Black Bean Sauce with Rice
Hot
£6.50
Duck in Black Bean Sauce with Noodles
Hot
£6.50
Sweet & Sour Chicken Hong Kong Style with Rice
Hot
£6.20
Sweet & Sour Chicken
Sweet & Sour Chicken Hong Kong Style with Noodles
£6.20
Sweet & Sour Pork Hong Kong Style with Rice
£6.20
Sweet & Sour Pork Hong Kong Style with Noodles
£6.20
Sweet & Sour King Prawn with Rice
Sweet & Sour King Prawn Hong Kong Style with Rice
£6.50
Sweet & Sour King Prawn with Noodles
Sweet & Sour King Prawn Hong Kong Style with Noodles
£6.50
Chicken Curry with Rice
Hot
£6.20
Chicken Curry with Noodles
Hot
£6.20
Pork Curry with Noodles
Hot
£6.20
Beef Curry with Noodles
Hot
£6.20
King Prawn Curry with Rice
Hot
£6.50
King Prawn Curry with Noodles
Hot
£6.50
Thai Spicy Hot & Sour Soup with Lemon Grass
Tom Yum Vegetable Soup
Hot
£3.20
Thai Spicy Hot & Sour Soup with Chicken
Thai Spicy Hot & Sour Soup With Chicken & Lemon Grass (Tom Yum Kai Soup)
Hot
£3.40
Thai Spicy Hot & Sour with King Prawn
Thai Spicy Hot & Sour with King Prawn & Lemon Grass (Tom Yum Koong)
Hot
£3.40
Thai Green Mixed Vegetable Curry
Hot
Vegetables
£5.60
Thai Green Chicken Curry
Hot
£5.60
Thai Green Beef Curry
Hot
£5.60
Thai Green King Prawn Curry
Hot
£5.60
Thai Green Mixed Meat Curry
Hot
£5.60
Chicken & Pineapple Fried Rice
£5.60
Thai Style Fried Noodles
Hot
£5.60
A. For Four Persons
Sesame Prawn on Toast
BBQ Spare Ribs
Sweet & Sour Chicken Balls
Deep Fried Shredded Beef in Chilli (Hot)
Chicken with Mushrooms
Plain Mixed Vegetables
Chicken Chow Mein
Special Fried Rice
£37.00
B. For Three Persons
Sliced Beef with Green Peppers & Black Bean Sauce (Hot)
King Prawns in Oyster Sauce
Sweet & Sour Chicken Balls
Plain Mixed Vegetables
Chicken Chow Mein
Special Fried Rice
£30.00
C. For Two Persons
Sliced Beef with Ginger & Spring Onions
Sweet & Sour Pork Balls
Chicken with Mushrooms
Shredded Chicken Chow Mein
Special Fried Rice
£21.00
D. For Two Persons
Chicken with Cashew Nuts (Contains: Nuts)
Sweet & Sour Chicken Balls
Beef with Mixed Vegetables
Shredded Chicken Chow Mein
Special Fried Rice
£21.00
Contact Us
Find Us
460 Becontree Avenue Essex, Dagenham, RM83UA
We deliver to
IG1, IG11, IG3, RM10, RM6, RM7, RM8, RM9